OM-HU
Professional Danish cookware for everyone
Functional and aesthetically pleasing design that delivers uncompromisingly efficient cooking experience.
OM-HU
Premium Danish pots & pans for culinary creators
When you immerse yourself in the art of cooking the good cookware becomes somehow invisible, yet it remains an essential tool of culinary creation.
All OM-HU pots and pans were designed to fullfil your cooking needs by being functional in every detail. We design better kitchen tools because we want you to become a better cook and bring joy to your kitchen.
Shop online
OM-HU
Unmatched versatility
"When we designed our OM-HU cookware and kitchen tools, we paid close attention to details such as ergonomics, selection of materials, durability and aesthetic consistency." — Karl Rønhave, CEO of MOZOW, Denmark.
Long lasting and sustainable materials
Premium from inside out
All our pots and pans are made of premium, long lasting and sustainable materials such as high quality, food safe, 18/10 stainless steel on the inside and outside, combined with an aluminium alloy core for the perfect heat distribution.
Handles are made of thermally modified wood that is heat insulating and comfortable to hold.
Ergonomic and functional consistency
Harmony of functional aesthetics
Our products boast functional and aesthetically pleasing design that transcends its form and delivers uncompromisingly efficient cooking experience.
Timeless design and durability
MOZOW pots and pans are buy-it-for-life items
OM-HU pots and pans are designed to last for generations. The famous Danish aesthetics combines durable materials such as 18/10 stainless steel, alluminium alloy and Thermo Ash Wood on handles.
The meticulous manufacturing process and rigorous quality control means you won't need to worry about buying another set ever again.
Handles are made of Thermo Ash Wood, which means they are comfortoble to hold, while heat insulating and feast to behold.
Removable handles
All our OM-HU handles are removable and exchangeable in between pots and pans.
Key Features
Functional in every detail
Wooden handles that won't burn your fingers
All our handles are made of thermally modified wood for the increased durability and better heat resistance.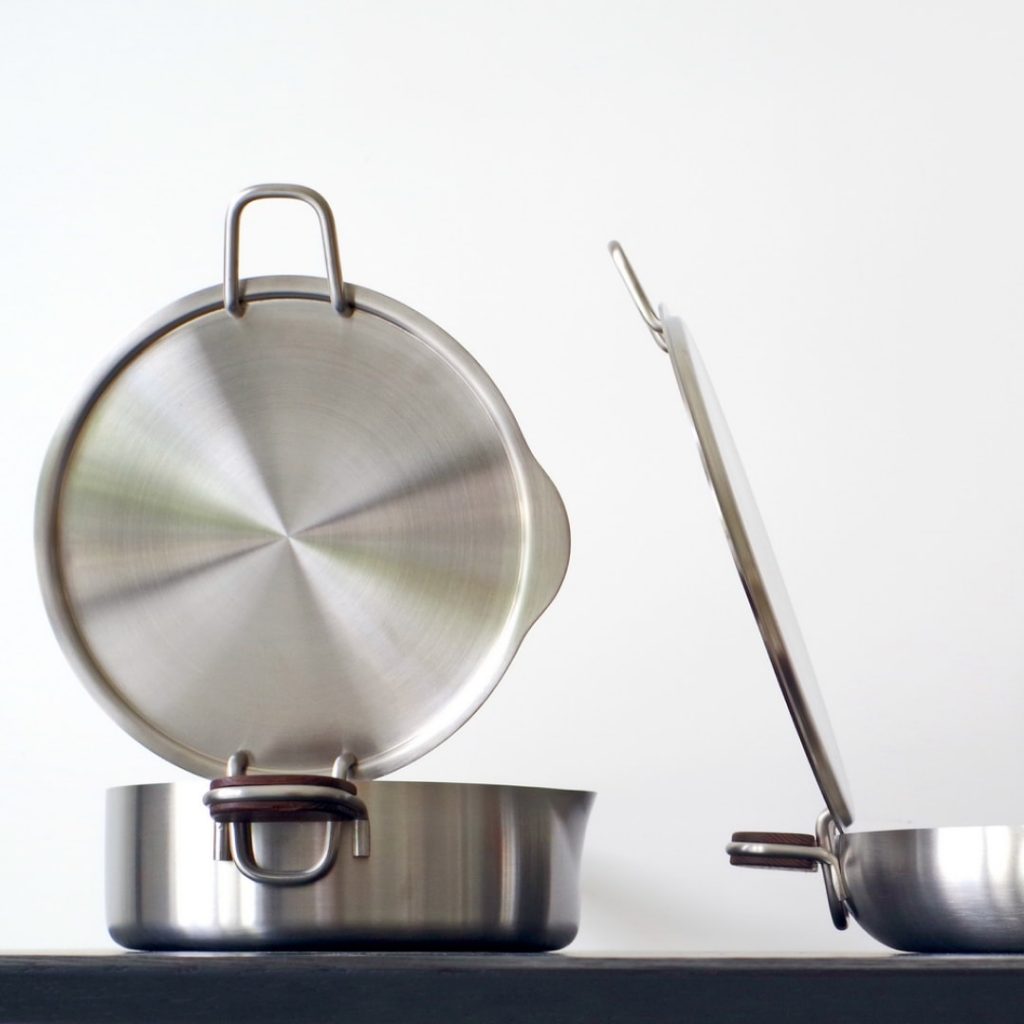 Lid that connects to handle and serves as a stand.
Small details often mean the world of difference. All our pieces are design to work seamlessly together. The whole is more than sum of its parts.
Precision pouring lip edge
No more spills! Cleverly shaped edge design for precise and spill-free pouring.
Perfect, even heat distribution
The 3-Ply Stainless Steel design; three layers of metal, with aluminium alloy in the middle results in fast and even heat destribution — ideal for cooking.
Stainless steel pots & pans can be used over high heat, and moved directly from the stovetop to the oven.*
Non-Toxic Material
Safe cooking for all generations of professionals
OM-HU pots and pans are made of high quality food safe 18/10 stainless steel. Unlike aluminium, stainless steel is nonreactive to acidic ingredients like vinegar or tomatoes, so it doesn't leave behind an awful metallic taste.
Additionally, stainless steel pots & pans can be used over high heat, and moved directly from the stovetop to the oven.
Our cookware withstands oven temperatures of at least 260 degrees Celsius*.
*The wooden handles need to be removed before putting pans or pots to the oven.
Heat Distribution Technology
3 Layers -All the way from edge to edge
Even heat distribution is the key feature of every high-end cookware on the market.
All our pots and pans are made of high quality, stainless steel on outside combined with an aluminium alloy on inside for ideal heat distribution.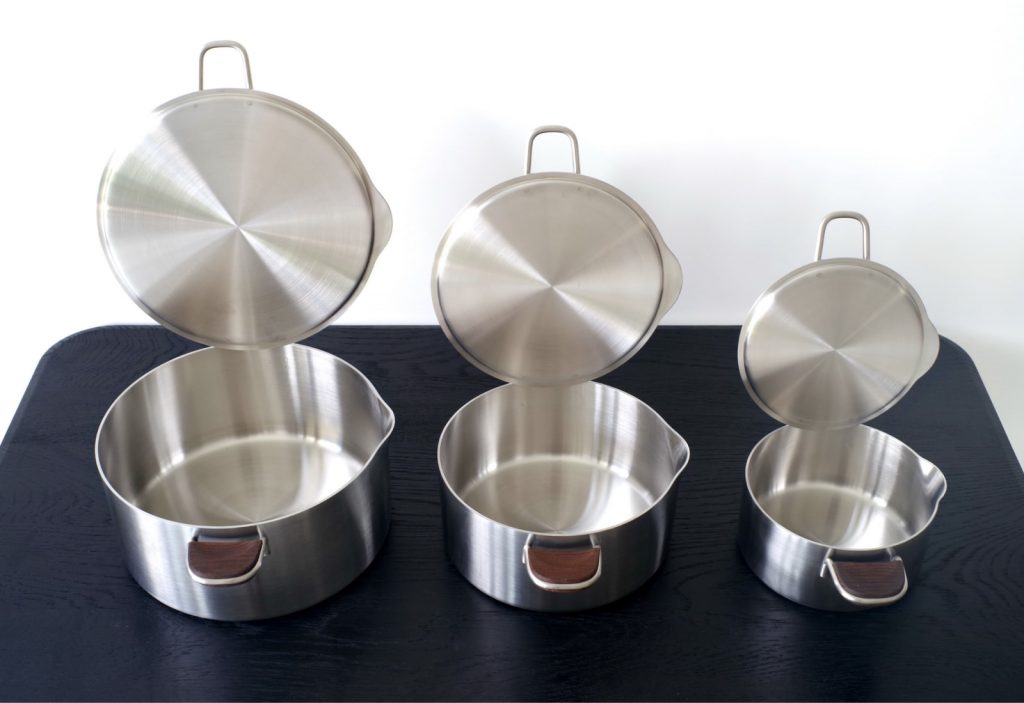 Perfect Sizing, Weight
Big or small - we have got you covered
OM-HU pot and pan sizes are the perfect choice for experienced home cooks who wants to prepare variety of different meals - large or small.
The weight of our pots ranges from 1.15 to 1.9 kgs depending on the pot or pan size. Still light enough for tossing ingredients on a pan without placing too much torque on your wrists.
Weight is another reason why MOZOW's pots and pans are the good choice for those who intend to cook regularly.
OM-HU Specs
Ideal weight and sizing
Coming soon ....

Thoughtful ergonomics
Practical handles
Little details matter. A hole on each handle is useful for hanging your pots and pans. Thermo Ash Wood used on OM-HU handles is a great insulator, comfortable to hold, provides good grip and it's aesthetically pleasing.

Side handles are best for larger saucepans and stockpots, while for the smaller ones stick handles provide easier grip and a more comfortable, one-handed movements around the stovetop.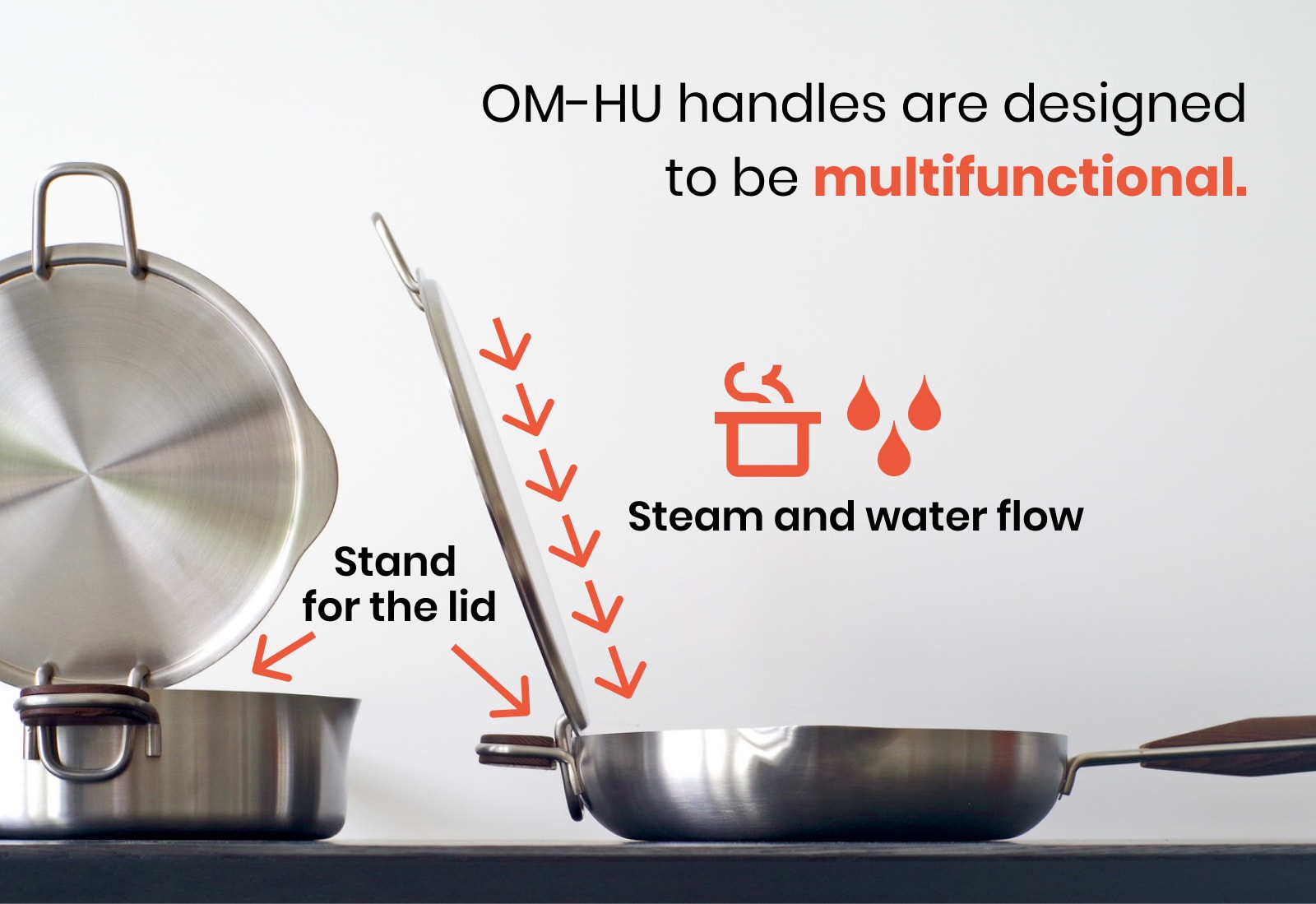 The OM-HU handle is designed to be multi-functional. As can be seen in the photo above, the OM-HU handle on the pot or pan becomes a smart stand for the lid, allowing steam and water from the lid to flow back into the Pot or Pan when necessary.

Gallery
See where the magic happens
The story of OM-HU - the strength of simple concepts
The OM-HU collection was carefully designed by the renowned Danish designer Thomas E. Alken MDd
Thomas E. Alken runs his own design studio in the heart of Copenhagen under the name Format Design. The design studio works on product design, furniture design and as a design consulting for both Danish and international customers.
"We believe in the strength of simple concepts combined with a functional and beautiful aesthetics. Our focus is on the user's seamless interaction with everything we design. It is always our goal to deliver tools that withstand the wear and tear of practical usage and last for generations." — Thomas E. Alken MDd
During the OM-HU design development we used the word "OM-HU" as our internal nickname. In Danish OM-HU means to make an effort. It was therefore natural for us to keep the name even after the development was over and use it as our cookware' final name. With this name, OM-HU represents what it means to thrive for the excellence not only in kitchen but as well on the serving table. We hope you enjoy our cooking with our carefully crafted OM-HU cookware.
Our Blog
Reading on furniture making, home decoration, kitchenware and anything home related.